Buy YouTube Subscribers - Real & Active Accounts
---
Buy YouTube Subscribers legitimately & safely. Get more Subscribers ⭐ at a low price. No passwords or other personal data required.
Lowcostsmm offers the best real YouTube subscribers on the market. Check out the available offers below!
Buy Cheap YouTube Subscribers - Just 2¢ per One Real Subscriber
As you can see, it is possible to buy YouTube subscribers cheap. We hope you have already seen for yourself the low prices we can offer. However, this is not the only way our services stand out from our competitors. Working with us, you will be able to promote your YouTube channel:
Fast – you will not need to spend time completing any tasks or even signing up on our website.
Easily – our website interface is so simple that even beginners in paid promotion will be able to navigate it.
With full confidentiality – no one will ever know that you used paid promotion services. Confidentiality and full security for all client data are two of the most important elements of what we do.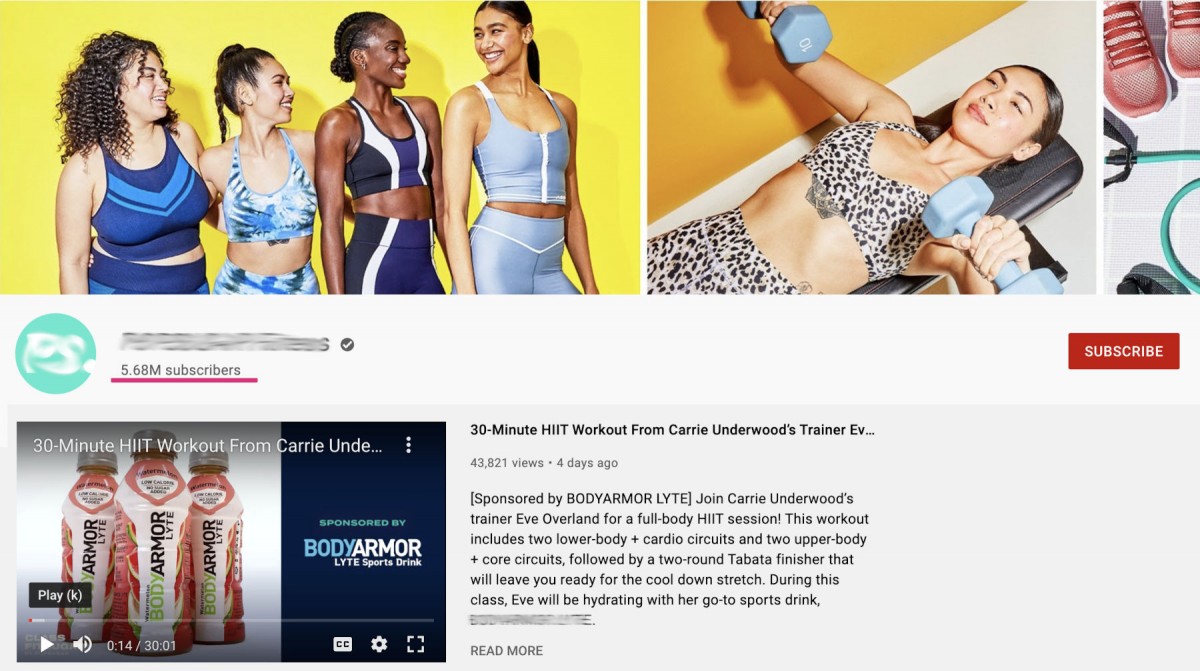 Conveniently – there is no need to go anywhere because an order for any of our services can be placed online. All you need to do is click a few times and you will have your new subscribers waiting for you!
Safely – We guarantee full security not only at the time of making a payment but throughout the whole process of getting paid promotion services from us.
Effectively – you will see the results of applying paid promotion to your channel instantly, so your channel will not get lost among other channels.
Without breaking the bank – our platform offers some of the lowest prices for paid promotion service on the market. You can boost not only your subscribers but all your other metrics at a low price as well: likes and views.
In a smart way – our expert support staff are always there to help you and point you in the right direction in regards to how many subscribers to order, how to place an order, and any other questions you may have.
If you are still having doubts, you can place a small order – just 50 YouTube subscribers, for example, and see the quality of the accounts you receive for yourself. You can also fill in a special form on our website that will let you get a small number of subscribers for free. This is something we designed specifically so that all of our potential clients can be sure that quality is not something we pay lip service to but actually deliver! You can also improve other metrics that are no less important when it comes to the promotion of your channel by buying the following affordable services:
Add Free YouTube Subscribers on Your Own: Up from Zero
As you can see, it is possible to build a multimillion army of YouTube subscribers and become world famous without investing too much time or effort into it. That is, of course, if you choose to get subscribers from special service providers, like Lowcostsmm. However, not all users may be comfortable doing so. In this case, there are a few ways to reach the most YouTube subscribers possible at a very low cost and even completely free. Let's take a closer look at these:
Utilizing special services that let you complete simple tasks in exchange for increasing your YouTube engagement or creating similar tasks for other freelancers. The completion of each task is worth a certain number of points. You can use the points you accumulate to get the services you need. The tasks are usually fairly simple, like subscribing to a channel, watching or liking a video. The downside of this method is that it requires a huge investment of time. For example, getting 100 new subscribers can take about ten days, if not a whole month.
Purchasing ads from the platform or from popular bloggers. These two methods are actually pretty effective. However, they are far from being cheap ways to attract new subscribers. Pricing for this kind of service depends on the demand for the topic you pick and how popular the blogger you choose to work with is.

Of course, if the topic you pick and your potential audience are very niche, the prices you will have to pay for this kind of service are going to be pretty high. Another significant difficulty when it comes to working with popular channels is finding someone responsible to execute your vision.

Leveraging other social media platforms. This method is not as costly as the previous two. If you plan carefully, you will be able to get new subscribers at no cost at all. Do you have profiles on other social media platforms? Use them! Tell all of your followers about your YouTube channel. Write intriguing captions and posts when you release new YouTube videos and come up with some kind of a giveaway to get your followers' attention.

You can also try to build your YouTube audience by doing a few things on the platform itself:
The first option is pretty easy – simply subscribe to all kinds of channels and see if their owners will return the favour. Unfortunately, it's also possible that this method might yield no results at all.
Another option is to comment on as many videos as possible. Pick some popular channels and talk about your project in the comments section of their videos. It is common for regular users to read through the YouTube comments section, so the chances to grow your subscriber count this way are pretty high.
Get your videos to trend. If you can get at least one of your videos to be featured in the 'Trending' section on YouTube, you are pretty much guaranteed a bunch of new subscribers. The only thing you have to do is to keep your new audience interested by creating great content.
Of course, there are a lot of other ways to get free YouTube subscribers and improve your shares video at a low cost, but these are some of the main ways to do so. Of course, it is best you try all of the methods listed above before you decide which type of promotion technique works best for you and your channel.
What it Costs to Purchase YouTube Subscribers - Active & Instant
It is hard to pinpoint a specific price for YouTube subscribers these days. The price for this service varies depending on the provider, and the difference is often larger than just a couple of cents – so, let's take a closer look at this. If you want to purchase followers Instagram, you will find a ton of different options to do so. Based on the data from a few paid promotion providers, including Lowcostsmm, the price for 100 YouTube subscribers can range anywhere from $2.00 to $7.00. So, 1000 YouTube followers can cost you anywhere from $20 to $70.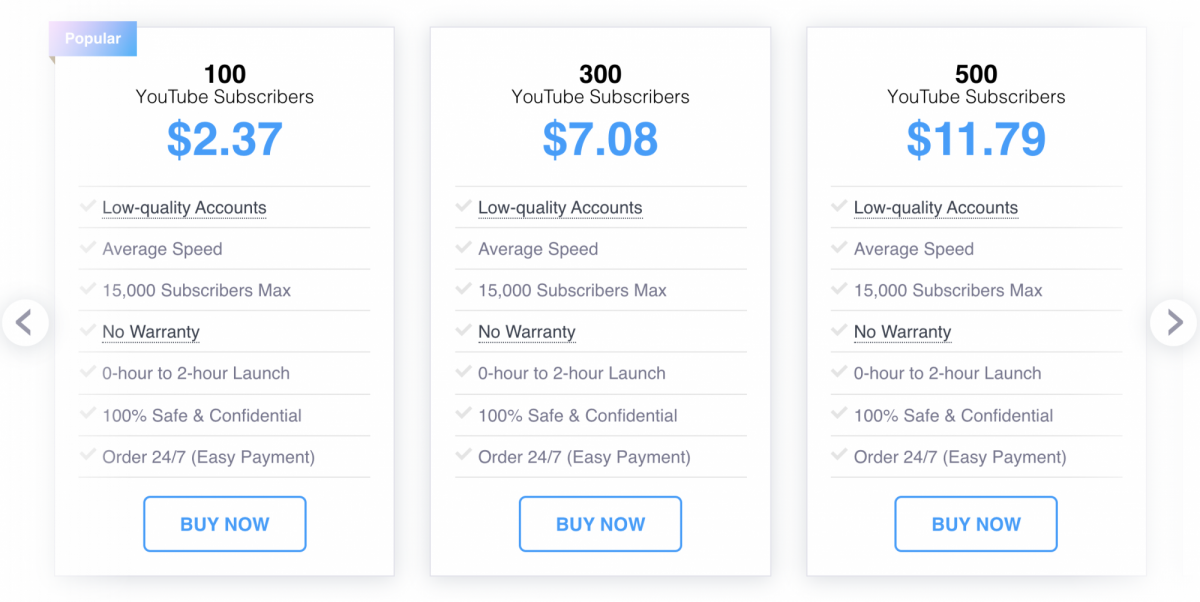 This prompts an important question: what are the factors that affect how much paid promotion providers charge for this service? Well – I'm glad you asked! Here are a few things that affect the price for YouTube subscribers:
The quality of accounts supplied by the service provider
How fast the service gets delivered. The faster your number of subscribers increases, the higher the price is
Account features (whether or not it falls into your target demographic, how complete it is, and how it looks)
How much the paid promotion provider marks up their services
The price at which the paid promotion providers get a lot of subscribers from their suppliers
The size of your order (wholesale prices are always lower than retail prices)
At LowcostSmm, you can buy real YouTube subscribers for just $2.39 per 100 accounts. You can also refer to the top of this page for complete pricing information for various order sizes. You will find that our prices for 200, 300, 500, 1000 and more subscribers are very affordable. You can always be sure that the quality of our services is high: we offer only real subscribers Telegram with a warranty. You are also free to choose the payment method that is most convenient for you. All transactions on our website are safe and 100% secure. Come and see for yourself!
How to Get More Subscribers on YouTube Quickly and Safely?
Some users, especially those who just discovered that you can increase YouTube subscribers via paid promotion, may notice that their subscriber count may decrease. This is more than just a coincidence. Even users who choose to grow their audience on their own may experience this problem. Having inactive users among your subscribers is the reason why this happens. Unfortunately, there is not much account owners who run into an unpleasant situation like this, can do about it. So, what kind of accounts does YouTube refer to as "inactive" and delete from the platform?
Users who have not visited their channel in more than six months.
Users who have lost interest in your channel and have not interacted with it in more than 6 months. These kind of accounts can also be deleted from the subscriber count of your channel.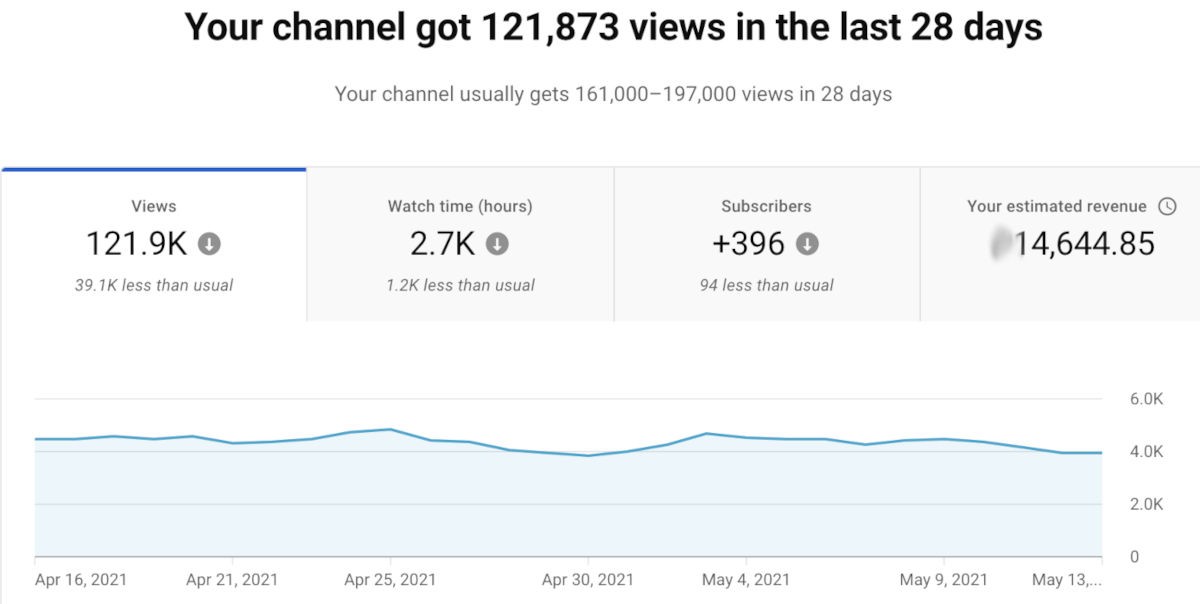 If you decide to buy subscribers YouTube paid promotion services offer, it will have no impact on how many of your subscribers the platform can delete. That is, of course, if you did not buy services of questionable quality. Also, here are a few simple rules you should be following in order to avoid getting some of your subscribers deleted and your channel suspended:
Order paid promotion only from tried-and-tested service providers.
Add subscribers in small portions.

Even if your goal is to get 100,000 subscribers, you should always start by getting 100. This way you definitely will not harm your channel and you will be able to test out the quality of the service.

Always choose real and active subscribers over bots YouTube.
Before you add subscribers though paid promotion, make sure you get your first subscribers on your own. Of course, they will most likely be your friends, family, and acquaintances. It is also fine if you do not start with a lot of followers – all that matters is that they will create organic engagement growth by liking, viewing and commenting on your content.
Avoid spikes in the engagement metrics of your channel. Take breaks between your paid promotion services orders, and make sure you balance the number of subscribers you buy with, for example, the number of views you buy.
As you can see, it is possible to get more subscribers on YouTube without harming your channel. Follow the recommendations above and the platform's Terms of Use, and your channel will remain safe even if one day you decide to purchase cheap YouTube subscribers from paid promotion services.
How Fast Can You Buy Real YouTube Subscribers - Delivery Terms
You can get real YouTube subscribers on our website fast and at no risk for your channel. Placing an order will take you no more than a couple of minutes. All you need to do is:
Choose the number of subscribers you would like to order
Click "Buy Now"
Fill out a short form that will ask you for the following:
Your name
The link to your channel
Your email for communication purposes
Make a payment with the payment method that works best for you
You can be sure that you will not be spending a ton of time signing up and confirming your personal information. We do our best to make the order placement process as easy and convenient as possible for every client that we work with.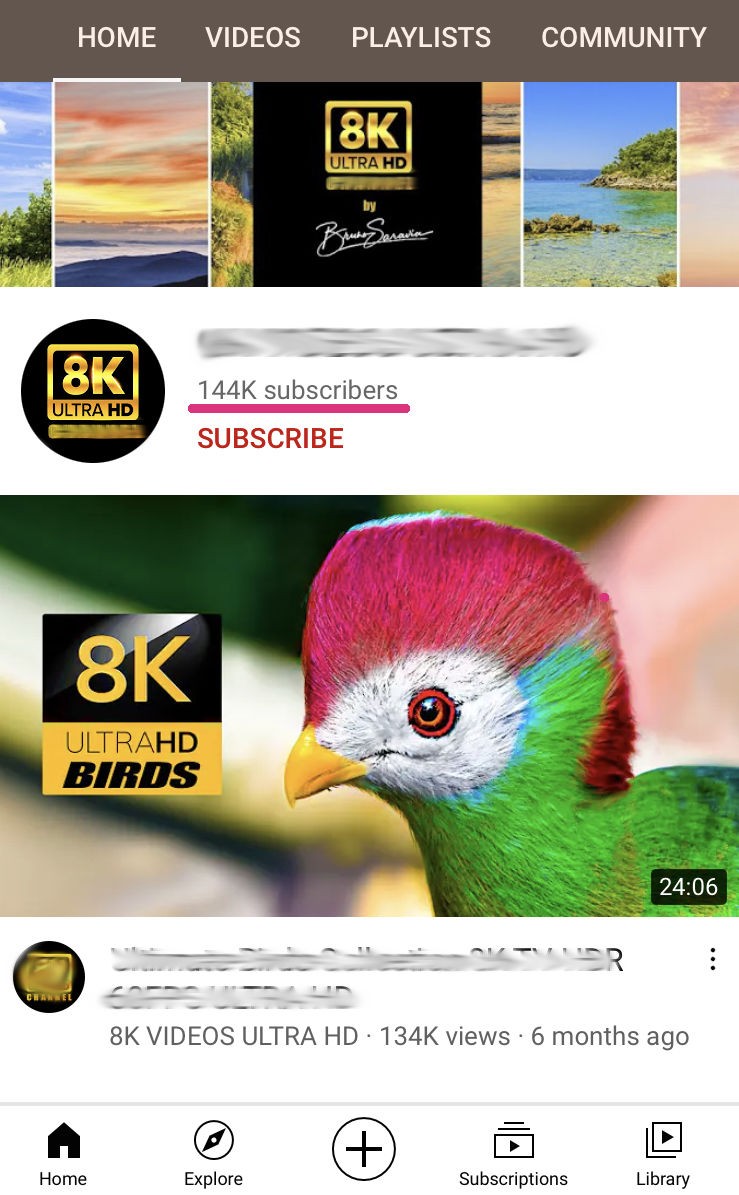 You also will not have to wait too long for your subscribers to be delivered. Even though our managers check and follow every incoming order manually, the time needed to process an order is only about 5 to 180 minutes. After that you should be able to see the number of followers on Tik Tok.
Of course, the process of adding subscribers to your channel may last a bit longer depending on the number of subscribers you purchased. So, if you chose to buy 1000 YouTube subscribers, you will be able to see all of them added to your channel in just a few hours. However, if the number of subscribers you ordered is more than 1000, you will need to wait a little longer – but not too long!
If you have any other questions about our work and the way we deliver services to our clients, or if you want to learn more about our services, please contact our online customer support agents. We are always happy to help!
How to Increase YouTube Subscribers and Hit 'Trending'
The main goal of any YouTuber is to get popular and get their videos to trend on the platform. Of course, one of the main factors that contributes to becoming successful on YouTube is having a large number of subscribers. That is exactly why so many users are eager to increase YouTube subscribers on their channels. But is that the only metric that makes or breaks the chances of a video to hit 'Trending'? Actually, no. Whether or not your video starts trending depends on a few things which including:
The length of the video. It has been proven that longer videos get to the 'Trending' section more frequently than videos that are shorter than 3 minutes. The optimal length for a video is about 5 to 7 minutes.
Audience retention. What is better: 100 people watching your video for 10 seconds each or 10 people watching your video for 3 minutes each? The latter is always better than the former because it has higher audience retention.

Low retention YouTube views are those that are anywhere between 3 and 12 seconds long. High retention views are those that last for at least 60% of the total length of the video.

Overall user engagement on your channel. Besides getting a large number of views, your video should also be getting a lot of comments and likes. If your videos do not have much to offer in terms of likes and comments, they will never be able to get to 'Trending'.
Clever video optimisation. In order for your video to make it to the 'Trending' section on YouTube, it should fit certain criteria, which includes:
A title that fits the theme of your video and is easy to understand
Key words that are relevant to what your potential audience may be searching for
A detailed description that includes the links you are promoting in your video (if this applies) and popular tags that fit the theme of your video
High quality production

As you can see, the number of subscribers you have affects not only the chances of your video performing well, but also the overall engagement on your channel. Your videos will not be able to get the number of views, likes, and comments that are needed for them to get to the 'Trending' section without it, which is exactly why you need to seriously consider whether you should buy real subscribers or not.
Cheapest YouTube Subscribers - 100, 1000, 10000 & More
YouTube, as a social media platform, has proven to be an effective tool when it comes to promoting a business or a project. A question that many people still ask, however, is how to stand out from the platform's multimillion userbase. The answer is fairly simple: focus on attracting as many subscribers to your channel as you can. How can you do this? Well, we discussed the various ways that you can attract your target audience in detail here. The safest and fastest way to do it, however, is to buy active YouTube subscribers. This method also comes with a whole bunch of other benefits:
Warranty and 100% safety. As you may know, using paid promotion services to increase the number of your subscribers does not break any YouTube rules and guidelines. Yes, YouTube moderators block users but the reasons for that are not related to paid promotion. Here are a few examples of the reasons a channel can be blocked, or a video can be taken down from your channel:
Spam or scam activity
Copyright breach
Propaganda of violence or other prohibited content
Disclosure of a third person's private information
Therefore, if you decide to get YouTube subscribers at Lowcostsmm.com, you can be sure that your channel will be safe. The subscribers we provide through our services are real accounts and not bots that can damage the reputation of your channel.
Organic traffic and better ranking for your channel. The number of subscribers you have is always considered by YouTube's search engine algorithm one way or another. It has been proven many times that YouTube algorithms tend to favour channels with large audiences. This means that the chances of your video getting higher ratings and views increase with every new user searching for something relevant on your channel, and that is how you can get attention of the real audience and even new subscribers.
Proof of social status. Having a large number of subscribers shows both YouTube moderators and regular users that your content is worth watching.

When regular users see that others are interested in and engaged with your content, they will think it is worth sharing with others. In general, YouTube users often prefer to like and subscribe to the channels that have already won the hearts of a large audience.

Fame. Any creator is likely interested in turning their platform into a place where people come to for advice, answers to the questions that trouble them, or the information they are looking for. It is human nature to think that if a channel has a lot of subscribers and views, it can be trusted. So, a great way to start achieving the goals you have for your channel is to purchase some YouTube subscribers. All you have to do afterwards is create quality content that will keep your new audience engaged and entertained.
Revenue and profit growth. As you may know, thousands of new users sign up on YouTube daily which means that the platform is becoming more and more competitive each day and you need to do your best to get ahead of the curve. If you want to achieve good business results and grow your revenue, buying subscribers is the right way to go. The awareness around your channel will grow meaning you will be more likely to get more sponsorship proposals and increase your earnings.
How to See Live Count YouTube Subscribers on the Chanel
When a new person subscribes to a channel, the counter is updated, but not immediately. As a rule, the update may last for two days. So if you know you have new people subscribed to your blog, but the count still hasn't changed, don't rush to sound the alarm. In a couple of days, new subscribers to your YouTube channel, the stream and live participants will be displayed on your channel.
You can see how many people are already subscribed to you on the main page of your account. In the same way, you can find out how many people are subscribed to other users' channels.
From a certain moment the exact number of subscribers is no longer displayed. Youtube rounds up this value. It's done to prevent bloggers from concentrating on every subscription and unsubscription.
This innovation applies to third-party channels only. That is, you can always find out the exact number of people subscribed to your channel, but not for all the others. To do this, you will need to directly contact the account owner and ask him to provide you with the exact numbers.
How is this indicator displayed?
If you have less than 1000 people, you will see every new subscription and unsubscription. For example, your channel has 543 subscribers. After 2 users subscribe, the number 545 will appear.
If you have from 1000 to 9999 subscribers, the counter will be updated every 10 new subscriptions. For example, you have 1000 people and 5 people subscribed. The value will not change until you have 5 more people subscribed. That is, the next numbers you will see are: 1010, 1020, 1030, etc.
If the channel has from 10000 to 99999 subscribers, the counter is updated every 100 subscriptions. Recall that you can increase their number through our service Lowcost Smm.
How to see detailed statistics on subscribers:
Go to your profile and open Creative Studio;
In the left menu, open the "Analytics" item;
Find the "Overview" section and the "Live" line;
Open the item "Current statistics".
How to see the same information on your phone:
Go to your profile and click on the avatar icon in the upper right corner;
Find "My Channel". Here, under the channel name, you'll see how many people have subscribed.
To see how many subscribers another blogger has, you need to go to their profile. This parameter will be displayed under the channel name, but, as we have already noted, the figure will be rounded.
Customer Reviews
Emma
I know getting paid promotion can lead to some negative consequences, but I have no complaints about this service – got my order done fast and cheap.
Dorothy
This service goes above and beyond! Proud to be your regular!
Jacob
This service really delivered on all its promises – added 10 extra subscribers on top of those I ordered. Thank you!
Liam
At first, I didn't really understand why every paid promotion provider priced their services differently but then I got it – everything depends on the quality of the service. I chose the package that comes with warranty because I did not want the subscribers I get to be deleted. I got 300 subscribers for just $16.49 and they got added to my account quite gradually – just like real subscribers would.
Dave Maccey
Got my order delivered in full – I added 500 subscribers for just $10. I did choose the cheapest package though, so I may have some users unsubscribe or get deleted. I will see how it goes with the subscribers I ordered and then place a couple more orders.
Sophia
I compared the prices across a few paid promotion providers and this one definitely wins. Obviously, cheap doesn't always mean good quality, so I bought 100 subscribers first to test out the quality. I was pretty happy with it and the order was delivered very fast too. Placing another order now, I will try to add 300 subscribers this time.
Dustin Hoffman
This website helped me make my channel look more reputable. Let's make it clear – 5000 subscribers always look better than 500! Prices are very affordable, so I didn't have to invest a ton of money into this.
Monica
It's definitely nice that this website has service packages with warranty. Even though it's for 30 days only, I feel confident the subscribers I purchased will stay.
Amelia Thornton
Thank you for making it possible to get YouTube subscribers at an affordable price. I am pleasantly surprised with the delivery speed too – made a payment in just about 5 minutes and started getting new subscribers on my channel in just a few hours.
tempo
tempoooo